Out April 2013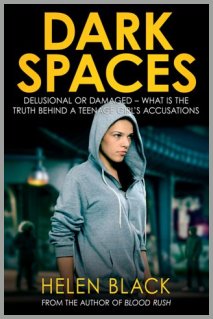 Praise for Helen Black's first
novel Damaged Goods:
"A dark and gripping read that will have you on the edge of your seat...this terrific debut novel is full of intrigue and a real page turner."
Closer magazine
"A fantastic first novel...a modern day cluedo that keeps you guessing right til the end."
Jane Elliot, author of
'The Little Prisoner and Sadie'
DARK SPACES
Lilly Valentine is back!
Struggling to manage her complicated home life, Lilly vows to avoid any difficult case. But when an old friend asks her to help a girl held in The Grove, a secure mental health hospital, Lilly cannot refuse.

Catapulted into a world where the lines between truth and delusion are blurred, Lilly wonders who and what she can believe.

When a patient is murdered and her body brutally mutilated, all fingers point towards a damaged teenager without a friend in the world. Only Lilly and the enigmatic Dr Piper are prepared to consider her innocence.

But someone inside The Grove is a dangerous killer. This time are the risks too high, even for Lilly Valentine?