Out April 2015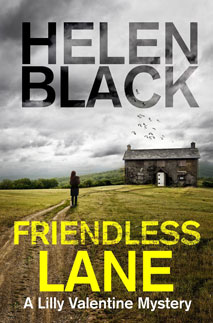 Praise for Helen Black's first
novel Damaged Goods:
"A dark and gripping read that will have you on the edge of your seat...this terrific debut novel is full of intrigue and a real page turner."
Closer magazine
"A fantastic first novel...a modern day cluedo that keeps you guessing right til the end."
Jane Elliot, author of
'The Little Prisoner and Sadie'
FRIENDLESS LANE
A Lilly Valentine Mystery
Lilly Valentine, tough talking lawyer and single mother, never makes things easy for herself and her latest case is about to become her biggest challenge yet.

Several years ago, Lilly successfully represented a terrified teenager, Kelsey Brand, accused of the brutal murder of her own mother. Now, ten years later, Kelsey has contacted Lilly again, this time to help her find her missing friend, Gem, last seen working in a strip club in the red light district in Luton.

And when another girl disappears from the same area, the evidence begins to point to a grooming gang targeting young and vulnerable teenage girls. Then Gem's mutilated body is discovered in a desolate country lane and Lilly realises that she must do everything she can to find the still-missing girl before tragedy strikes once more.

But is Lilly a match for the gang of men involved who will do anything, including murder, to get what they want?