Out August 2017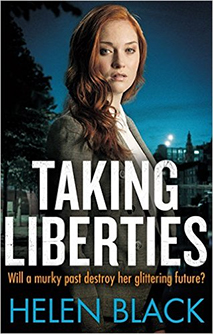 Praise for Helen Black's first
novel Damaged Goods:
"A dark and gripping read that will have you on the edge of your seat...this terrific debut novel is full of intrigue and a real page turner."
Closer magazine
"A fantastic first novel...a modern day cluedo that keeps you guessing right til the end."
Jane Elliot, author of
'The Little Prisoner and Sadie'
TAKING LIBERTIES
First in a new series by Helen Black
Liberty Chapman had a difficult childhood. The oldest of four kids, she tried to protect them from their violent father until one day he murdered their mother and got sent down.
What was left of the family rattled through the care system, bouncing from foster placement to care home. Liberty would have probably ended up on drugs, or dead, or worse if it hadn't been for a ballsy solicitor who told her to get her act together.So that's what she did. She kept her nose clean, got an education.
But Leeds is in Liberty's past. And once she hits town, the past slaps her in the face... and pulls her back into what she worked so hard to leave behind.